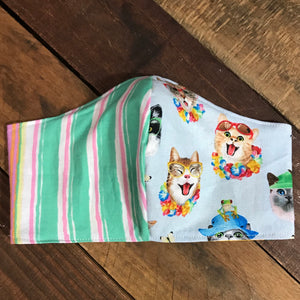 Women's Happy Cats Mask
Regular price $15.00 Sale
Cotton masks measures 8" across and 6" from nose to chin. The back is lined and has side openings to insert a filter. Across the bridge of the nose is a section of fabric to put wire through if you want! Twist ties and pipe cleaners work well. Just remember to take them out when you wash. Speaking of washing, the masks are preshrunk cotton. You can wash them on hot in a mesh bag. Hanging it to dry is best. If you must iron it avoid the elastic at all costs! It will melt!!! You can also choose whether you want elastic around your ears or around your head.
The default elastic for these will be around the ears. If you'd prefer we can also do it around the head. Just send us a note with your preference.
PS don't microwave it. Someone says that sterilizes it. It will catch fire. You can't be doing that.
PPS due to these both being pretty wild prints each mask will have different cats and different colored stripes. But who doesn't like surprises?!?